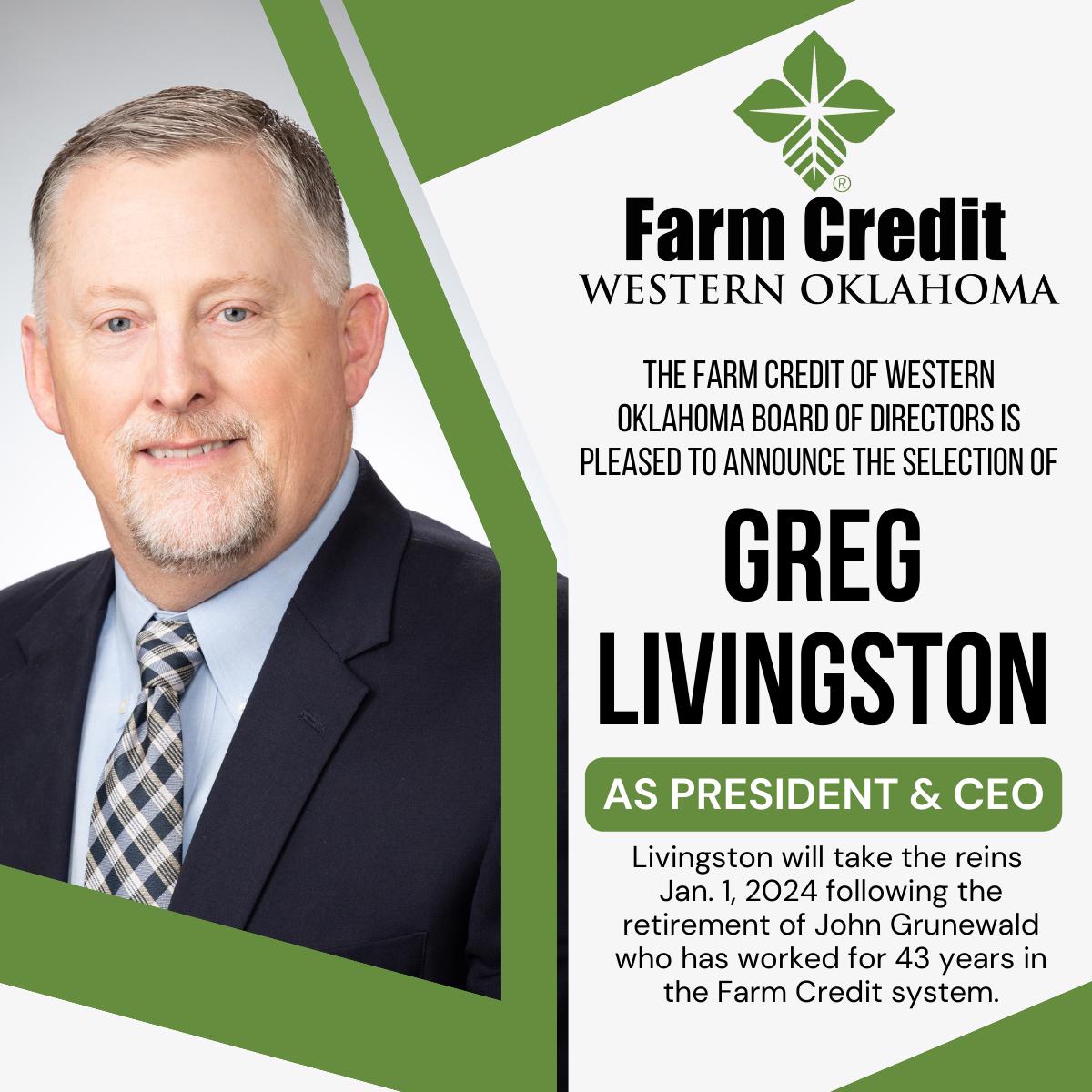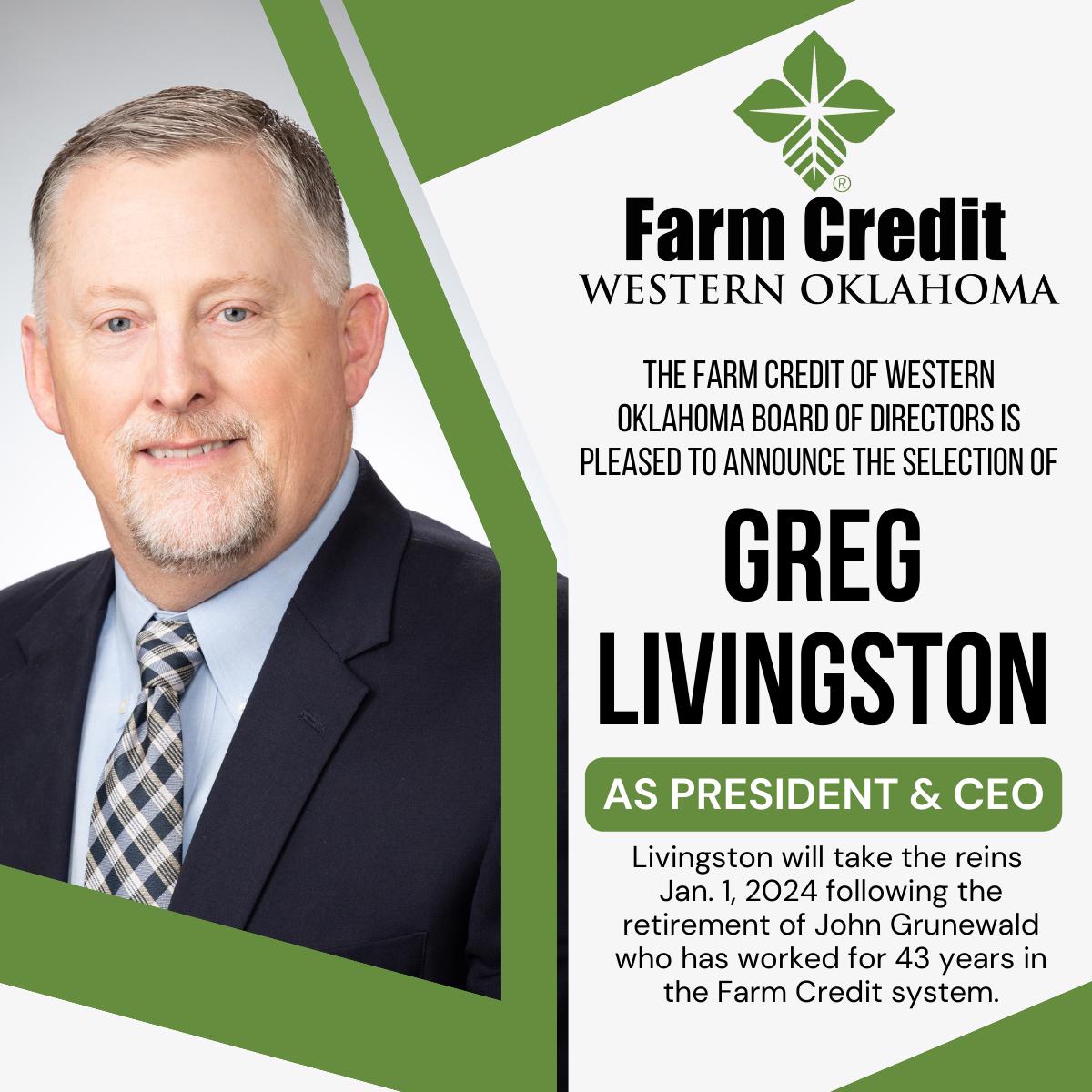 Greg Livingston selected to Lead Farm Credit of Western Oklahoma
Livingston will take the reins Jan. 1, 2024, following the retirement of John Grunewald who has worked for 43 years in the Farm Credit System
WOODWARD – November 1, 2023 – The Farm Credit of Western Oklahoma (FCWO) Board of Director's is proud to announce that they have selected Greg Livingston to lead Farm Credit of Western Oklahoma. Livingston will officially take the reins as President and Chief Executive Officer on Jan. 1, 2024, following the retirement of John Grunewald, current President, and CEO who has worked in the Farm Credit system for more than 43 years.
Livingston has been a FCWO team member for almost 32 years and currently serves as the Chief Lending Officer.
"We as a board are happy to announce that Greg Livingston has been selected as our President and CEO going forward," said Roger Fischer, FCWO Board Chair. "We are confident that Greg will continue to build upon the strong tradition and culture our association was built upon."
As a cattleman himself, Livingston knows, understands, and appreciates agriculture, especially those involved in the industry.
"The employees, stockholders, and our commitment to agriculture are the reasons I believe in the Farm Credit Mission," Livingston said. "Our customers are the greatest contributors to the overall economy by providing food and fiber to the world."
According to Livingston, the association's most valuable assets are the employees.
"Farm Credit of Western Oklahoma is best known for being service oriented to our stockholders and that is because of the hard work of our team members", Livingston said. "Keeping up with the ever-changing needs of our customers and the way they need to transact their business while keeping their information secure can be challenging, but our team sets the standard."
The FCWO standard is second to none because of great leadership.
"We are committed to continuing the FCWO culture while serving our stockholders. We greatly appreciate the strong, heartfelt leadership of John Grunewald and the years of excellence in developing and maintaining an exceptional and dedicated team of employees. We wish John all the best in his retirement," said Fischer.
Livingston and his wife, Pam of 34 years live near Seiling where they have a small commercial and registered Red Angus cow/calf operation. Pam owns and operates Livingston Insurance Agency. They have two married daughters and 4 grandchildren.
FCWO services 6,000 loans in Western and Central Oklahoma with nine locations in Altus, Alva, Anadarko, Clinton, Enid, Elk City, Guymon, Tuttle, and Woodward. Field offices in Beaver, Boise City and Chattanooga.
Farm Credit of Western Oklahoma is a member of the Farm Credit System and comprised of Federal Land Bank Associations and Production Credit Associations financing all types of farms, ranches and other agriculture needs. Farm Credit of Western Oklahoma is an equal opportunity lender and equal housing lender. Learn more at farmcreditloans.com.
# # #
"Farm Credit of Western Oklahoma is best known for being service oriented to our stockholders and that is because of the hard work of our team members. Keeping up with the ever-changing needs of our customers and the way they need to transact their business while keeping their information secure can be challenging, but our team sets the standard."